Are you getting harassed with your creditors and just want to end the business so you can have a peace of mind. Don't risk your financial future. We will give the right advice. Call us on 09 390 7936 anytime.
Liquidation
If your creditor is asking the court to liquidate your company then you have 10 days to appoint a liquidator or else the creditor will appoint their own liquidator can you may lose control over your own assets. If you are urgently looking for a liquidator then engage our services, we will be by your side and guide you along the way.
By liquidating your business, you can take the stress and worry out of your mind. Here is what happens when you appoint us as your liquidator.
Initial consultation to understand your business.
Your business may have assets or no assets and want to ensure that voluntary liquidation is managed carefully. We can assist you through the difficult time and provide up to date management and reporting.
You will get all this at a fixed fee. So you know how much it will cost right before you start.
Official notice of our appointment as a liquidator
The liquidator notifies the Companies Office, and advertises the appointment
A creditors' meeting may be held to appoint a replacement liquidator
The administration of the liquidation starts. This may include;

closing the business
identifying and selling the company assets
contacting and receiving claims from the creditors
sending progress reports to the creditors
investigating possible offences or unusual transactions
making payments to creditors (dividends).

Completion – The final report is sent to creditors and the Companies Office is notified. The company is then removed from the Companies Office Register.
To discuss about appointing a liquidator, give Auckland Accounting a call today. We will provide complete advice on liquidation management process and help you all the way.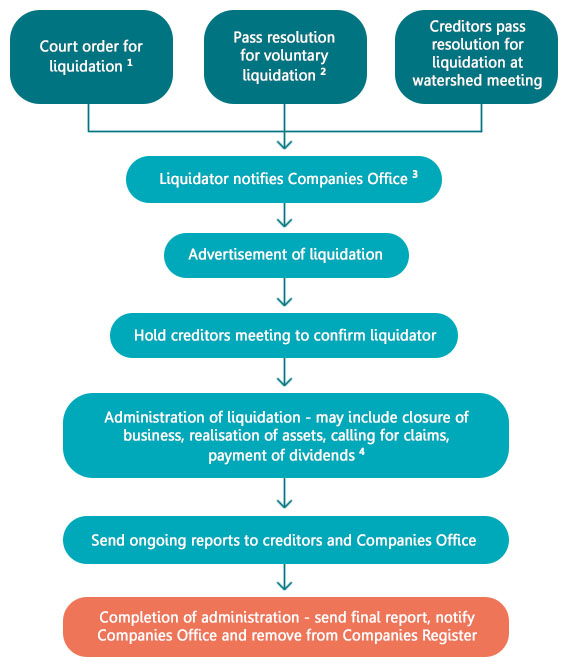 Bankruptcy
Did you know that while you're bankrupt, you can keep:
tools needed for your work (up to a certain value)
necessary household furniture and effects (up to a certain value)
a motor vehicle worth up to $6,000
money up to a maximum of $1,200
items on hire purchase — but you'll have to continue making payments.
If you own your business, then your assets may have to be sold including your personal property to pay the creditors.  Call us on 09 390 7936 anytime.